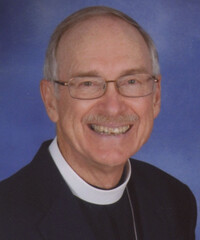 Vice President

The Very Rev. Perry W. Polk
The Very Rev. Perry W. Polk was reared in Waco, Texas.
He graduated from Baylor University with BBA majoring in economics. After a 20-year Air Force career, he settled in Fairfield. He retired as a school district Information Technology Director after 18.5 years and consulted for another five years.
Called to ordination in 2005, Rev. Perry began seminary at the Pacific School of Religion. At the end of his middle year, he chose to change denominations and seminaries. He earned an MDiv at the Church Divinity School of the Pacific in May 2008. Rev. Perry was ordained Priest on June 13, 2009 and became an Associate Priest at Grace Church in Fairfield. After serving as Long-Term Supply Priest at Grace Church, on July 1, 2014 he became the Interim Rector and held that position until August 31, 2018. He holds an MBA from the University of Oklahoma and an MA in Pastoral Ministry from Northwest Nazarene. While an assistant professor of economics and management at the Air Force Academy, he worked on doctoral courses in finance and organizational behavior at the University of Colorado.
He is a member of the board of the Episcopal Foundation of Northern California and the Diocesan Commission on Canons and Constitution. He serves as the Squadron Commander of the Civil Air Patrol squadron at Travis AFB.